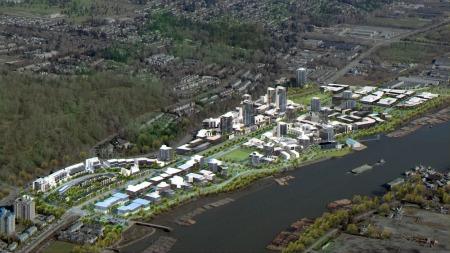 Project was completed while Reshape staff were with Compass Resource Management. Reshape spun out of Compass in 2013.
We worked with ParkLane Homes to develop River District Energy, a district energy utility (DEU) for the company's River District development.
The River District is located on former industrial lands along the Fraser River in southeast Vancouver. The development will be built to high social and environmental standards. It will ultimately encompass over 700,000 m2 of new floor space (~55 legal parcels), consisting mostly of residential uses, with some smaller amounts of retail, office, and community uses.
River District Energy will serve all economically connectable loads in the River District, as well as several redevelopment parcels currently owned by the City of Vancouver west of Kerr Street. The system commenced operation with temporary gas-fired boilers. A permanent energy centre will be developed within a few years to house permanent natural gas boilers.
Once load reaches a sufficient threshold, the current plan is to construct a 4.5 km pipeline to recover waste heat from Metro's existing waste-to-energy facility in Burnaby. When the community is built out, the DEU will reduce annual greenhouse gas emissions by approximately 8,200 tonnes and electricity consumption by 21.6 GWh, relative to the business-as-usual systems. The project aligns well with the provincial government's green energy objectives under the 2007 BC Energy Plan and the Clean Energy Act and has received an incentive from BC Hydro.
Here's some of the work that we did on this project:
Led the original feasibility analysis
Developed a detailed business case
Assisted Parklane in deciding whether to partner with an existing utility or develop the district energy system itself
Assisted with the application to the BC Utilities Commission for a Certificate of Public Convenience and Necessity
Provided ongoing support for the implementation of the DEU, including final rates development
More background on the project can be found in River District Energy's application to the BC Utilities Commission.